---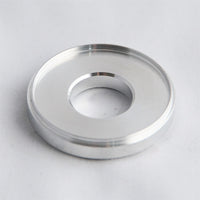 Seal Drift for DT Swiss Rear Hub Freehubs - Equivalent to HXTXXX00N5026S
***  Buy one, get one 30% off any mix of pullers and presses (applies to individual tools only, not kits) ***
This drift is designed to allow precise installation of the seal that is found between the hub body and freehub on all DT Swiss 'ratchet' rear hubs, including the 180, 180 EXP, 240, 240s, 240 EXP, 340, 350.
It is equivalent to DT part number HXTXXX00N5026S.
This seal has a very thin metal backplate and is easily kinked without the proper tool.  Our drift has a raised rib sized to fit between the lips of the seal, putting pressure directly onto the base of the seal.
The drift has a 15mm hole to allow it to be fitted over the 15mm axle of the hub, ensuring precise alignment with the hub.  The drift is best pressed into place by our over-axle press (the same press needed to install the bearings in a DT rear hub.
Seal drift combined with our over-axle press:
Shipping & Taxes
We aim to dispatch all orders within 1 working day
Orders within the UK will be shipped by Royal Mail RM24 (First Class)
International orders are welcomed and will be shipped by Royal Mail International Standard (Airmail). Please refer to our Shipping & Taxes page for more info.
Our tools can be selected either by the bearing size or by the bearing's standard reference code.

Standard references take the form of a three or four digit number, such as 688, or 6902 for example. These codes are often moulded onto the bearing's seal. You might see something like 6902-2RS on the seal. The first digits are the standard reference.  The second part (2RS in this case) refers to the seal type and doesn't matter for tool selection.
Alternatively, tools can be selected by their inside (ID) and outside (OD) diameters and width.

Note that each tool is specific to one bearing size and can't be used on bearings with different dimensions.
If you need any help then please feel free to email us.