---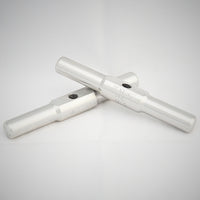 T-Bar Press Handles
Our T-bar handles can be purchased in pairs, either with or without a matching threaded rod. 
All of our presses use the same diameter of threaded rod, so these handles can be used with our frame and hub presses, over-axle presses, bottom bracket presses and headset cup press.  The one exception is our over-axle presses for 10mm and 12mm bearings; these use a smaller 5mm threaded rod and so aren't suitable for use with these T-bar handles. 
Our tools can be selected either by the bearing size or by the bearing's standard reference code.

Standard references take the form of a three or four digit number, such as 688, or 6902 for example. These codes are often moulded onto the bearing's seal. You might see something like 6902-2RS on the seal. The first digits are the standard reference.  The second part (2RS in this case) refers to the seal type and doesn't matter for tool selection.
Alternatively, tools can be selected by their inside (ID) and outside (OD) diameters and width.

Note that each tool is specific to one bearing size and can't be used on bearings with different dimensions.
If you need any help then please feel free to email us.